About
BALLS ARE THE PROBLEM Ė SPAY / NEUTER IS THE SOLUTION
I Hate Balls is an edgy campaign targeted to raise awareness about spay/neuter, a simple and extremely effective means of stopping the killing of animals in shelters.
Nancy and Katherine Heigl, founders of the Jason Debus Heigl Foundation developed the I Hate Balls campaign to reach into all pet friendly hearts and homes with one surgically direct mission - fight the good fight against balls!
Since its inception, the Jason Heigl Foundation has taken the bull by the...well, balls. Funding spay/neuter programs has long been a passionate focus for the Foundation alongside the provision of financial support for rescue organizations that save pets from over-crowded shelters on a daily basis.
The development, implementation and support of training, education and transport programs are also at the heart of the Foundationís work. In the past 2 years, more than $2 million has been generously contributed to these life saving initiatives.
Visit us at http://jasonheiglfoundation.org to read more about our mission, success stories, a myriad of programs, and our very special rescued pets in need of a home - the Heigl Hounds Of Hope.
Do your part and join the I Hate Balls campaign today!
To donate $5 text SNIP to 20222. To donate $10 text FIXIT to 20222.
A one-time donation of $5.00 or $10.00 will be added to your mobile phone bill or deducted from your prepaid balance. Donor must be age 18+ and all donations must be authorized by the account holder (e.g. parents). By texting YES, the user agrees to the terms and conditions. All charges are billed by and payable to your mobile service provider. Service is available on most carriers. Donations are collected for the benefit of the "JASON DEBUS HEIGL FOUNDATION" by the Mobile Giving Foundation and subject to the terms found at www.hmgf.org/t. Message & Data Rates May Apply. You can unsubscribe at any time by texting STOP to short code "20222"; Text HELP to "20222" for help. Privacy Policy.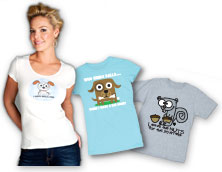 Show your support and help fix the pet overpopulation crisis with cool t-shirts, hip underwear and groovy gear from the I Hate Balls store.

Why Hate Balls
5 million reasons. Thatís the number of pets killed every year in shelters. Join our campaign to rid the world of crotch plums!